As each season passes, new requirements are necessary to care for your vehicle to ensure it doesn't become unusable when you most need it. When a new season is ushered in, all car owners must do their part to maintain their beloved vehicle. Such is true for all seasons, including spring. The spring season consists of new obligations, including spring cleaning in your home and the interior of your vehicle. But while you tend to clean specific areas and get rid of belongings you don't use anymore, don't neglect the state of your windshield and windshield repair in Calgary. Your windshield plays an imperative role as it protects you from the external elements as you drive and gives you a complete and clear view of the roads ahead. This car part should always be properly maintained, even when spring arrives. 
Find out the top windshield maintenance tips for spring that will help keep your car in tat and in good shape. 
Windshield wiper blades
Your car goes through a lot during the tough winter months, where the exterior bears the brunt of its excesses. From hail of varying sizes and severe winter storms, your car will sustain damages you might not even be aware of. Your windshield wipers work incredibly hard to keep the snow and ice off your windshield during the winter and are susceptible to damage during this season. It is important to repair the damages that your windshield wipers have endured in the winter, or they can eventually begin to scratch your windshield after months of wear and tear. A windshield wiper replacement will be necessary to protect your vehicle and be conducive to maintaining your windshield. For more information on windshield wiper replacements, contact your local automotive shop to get a quote.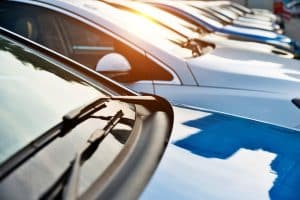 Wash
Give your car a good clean after the winter storms and cold begin to cease. Clean its undercarriage, sides, and, most importantly, the windshield to ensure that any debris has accumulated during the colder months. Using a high-quality microfibre towel, wipe down your windshield that will rid your crucial piece of glass of any debris, like road salt, that could obstruct your view and potentially damage the glass. 
Repair and replacements
Because of winter's extreme weather conditions, your car is liable to be damaged, particularly the glass. When you notice a crack in your windshield, it is something that needs to be repaired as soon as possible. As a rule of thumb, if your windshield has suffered multiple cracks that have expanded beyond the size of a Canadian $5 dollar bill, then a replacement is necessary. After winter is over, get a windshield replacement when needed for your vehicle's maintenance and your own safety. 
Conclusion
Your windshield should never be neglected when you begin to tend to your post-winter obligations in the spring. While vacuuming your car's interiors may be a priority, so should maintaining your windshield. By cleaning your windshield and fixing and replacing your windshield wipers and the windshield itself, your windshield will be in excellent shape during the blossoming season of spring. Contact your local windshield repair Calgary professionals for more cost and repair extent details. 
When your windshield becomes unexpectedly damaged, Super Auto Glass is here to assist! We are nestled in our beloved community of Calgary where we specialize in all things windshield repair, including windshield replacement, mobile windshield replacement, RV windshield replacement, and sunroof repair and replacement. With our distinct knack for repairing vehicles with efficiency and professionalism for the past ten years, Super Auto Glass is Calgary's most trusted source for automotive repair.